"Our Cottages overlook the Bay of Fundy - close to Fundy National Park, Alma, Cape Enrage & Hopewell Rocks"


---
The Captain's Lookout Cottages offer a breathtaking panoramic view of the Bay of Fundy. We invite you to come and enjoy our 6 rustic pine cottages, high on a hill overlooking the rugged shoreline and beaches of our beautiful Bay. The Bay of Fundy is known across the globe for having the world's largest tides. It has been voted "Canada's Top Natural Wonder". In just six hours the tide can rise over fifty feet along the Fundy Coast, generating tidal bores and covering large beaches in a matter of minutes.

We have beautiful walking trails directly from your cottage door to nearby beaches and cliffs. A salt and freshwater lake lies a short hike behind your backdoor. Hiking, biking, kayaking, shark fishing, rappelling, shorebird watching, horseback riding, beach-combing and Adventure Tours are just some of the exciting attractions to be found along the Fundy Coast. Exploring Canada's Fundy Trail, by car, bike, walking or hiking is a must for all nature lovers.


---
Get Back To Nature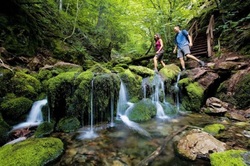 Fundy National Park - Click Image For Link
You can find us in the middle of scenic Albert County. A short 15 to 20 minute drive will take you to all of our famous local attractions. Enjoy the Cape Enrage Lighthouse where rappelling, kayaking and beach walking are amazing. Continue on a picturesque drive through Waterside and it's gorgeous beaches to the seaside Village of Alma, a fishing village where visitors can dine on fantastic seafood, explore the ocean floor and witness fisherman coming in with their daily catches. Alma is the gateway to Fundy National Park, which offers lush forest hiking trails, deep stream valleys and waterfalls, miles of beach-combing, fossil hunting and even a beautiful and challenging golf course.

---
Amazing Local Attractions - Fundy Park, Hopewell Rocks & Cape Enrage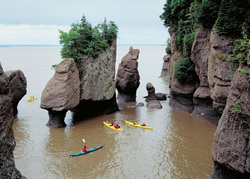 Hopewell Rocks - Click Image For Link
In the opposite direction you can travel 25 minutes to our world renowned Hopewell Rocks. This remarkable location is home of the highest tides in the world - you can experience them twice a day - every day! You'll want to visit during high tide and low tide to appreciate the height and range of the tides.

Just an hour away you will find fantastic shopping, dining and more in the hub of the Maritimes, the City of Moncton. Attractions include the Magnetic Hill Zoo and Giant Water Theme park, Tree-Go in Centennial Park, Crystal Palace Theme Park/Empire Theaters and Champlain Place for shopping at the largest mall east of Montreal. We are only 3 hours from PEI and the Confederation Bridge.


---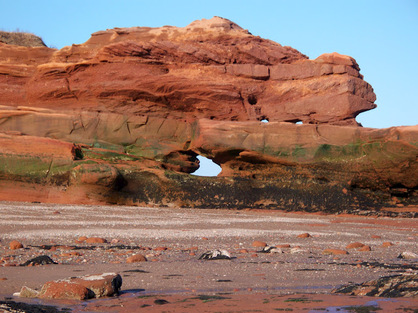 Check out the "Amazing Places" Website

... featuring video's and images of the Fundy Biosphere Reserve which was designated as a world biosphere reserve by UNESCO in 2007, whose overall goal is to educate people about the environment by promoting conservation of biodiversity.

Our Cottages allow easy access to many of these Amazing Sites, which allow visitors to experience incredible, local natural phenomena that many would find hard to believe even exist so close by instead of from faraway lands. (click on image for link to website)
---
Local Attractions Aren't all we Offer.... Our Coastline boasts Private, Quiet, Amazing Views and Trails to Explore....

---
Your Family Vacation Awaits You Here... Come Discover Our Natural Wonders!